Again and again there are reports of the economic benefits of releasing cannabis as an intoxicant for adults.
Leafly's annual cannabis jobs report recorded 243,700 full-time equivalent (FTE) jobs in the legal cannabis industry in the United States in January 2020.
These 243,700 jobs represent a 15% increase from 2019. In the past 12 months, the US cannabis industry has created 33,700 new jobs nationally, the fastest growing industry fast in America.
The largest increases were seen in Massachusetts, Oklahoma and Illinois: 10,226 jobs for Massachusetts (medical and recreational) and 7,300 for Oklahoma and its medical industry alone.
Florida also experienced strong growth in 2019. With more than 300,000 patients registered, Florida now has the highest number of medical consumers in the United States. This increase in the number of patients, as well as the start of sales of dried flowers , resulted in a 93% increase in total sales.
Also, this count does not include the jobs created by the recent change of legal status of the CBD . As CBD is not regulated like cannabis under state license, there is no data available to account for jobs.
Double-digit growth every year
The cannabis industry saw its first growth problems in 2019. 2018, an exuberant year, has given way to the reality of a slow-growing Canadian market , reduced investment capital, a national health crisis linked to black market vape products and layoffs at some of the largest companies in the industry.
These setbacks were nonetheless offset by the enormous growth in new markets such as Massachusetts, Oklahoma and Florida.
Here's how last year's job growth compared to previous years.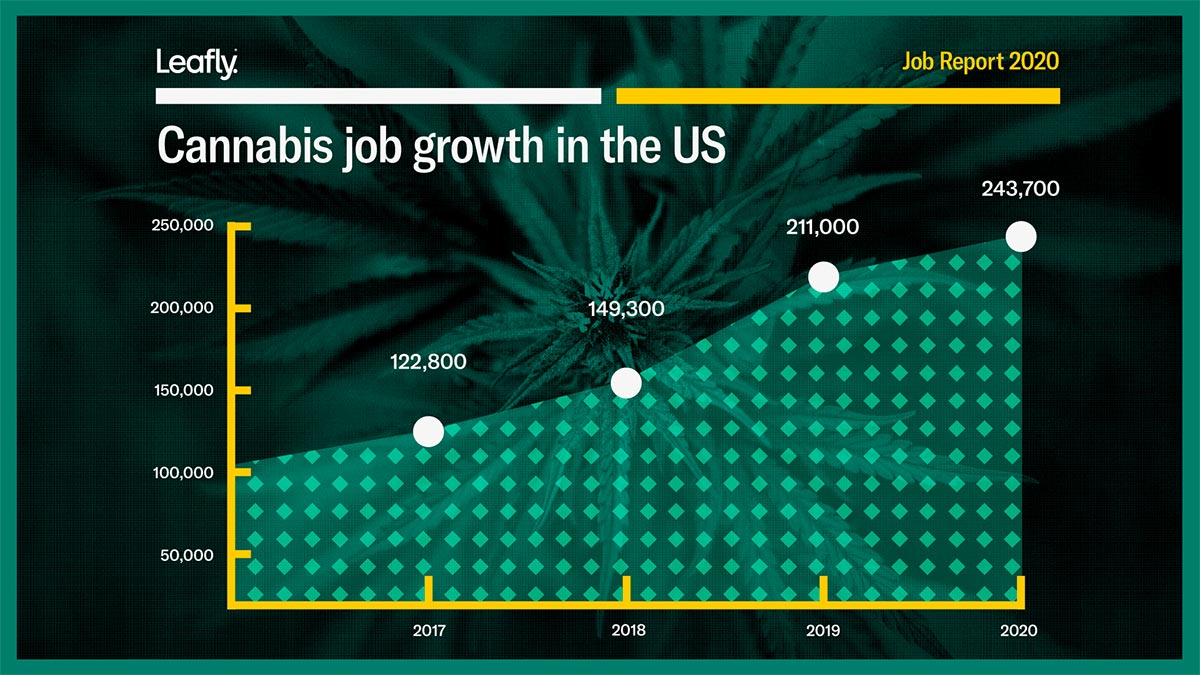 Major employers: California and Colorado
Despite numerous layoffs, California remains the largest legal employer of cannabis in the United States. Colorado is nevertheless the state that has the most cannabis employees in relation to its population, with one job for 165 inhabitants, compared to one job for 980 inhabitants for California.
Colorado and Washington State both posted strong 8% growth six years after opening their retail stores. Legal stores thus continue to distance customers from illicit sellers. The two states legalized cannabis in 2012. The Colorado industry nevertheless has nearly 10,000 more jobs than Washington, even if Washington has almost 2 million more inhabitants.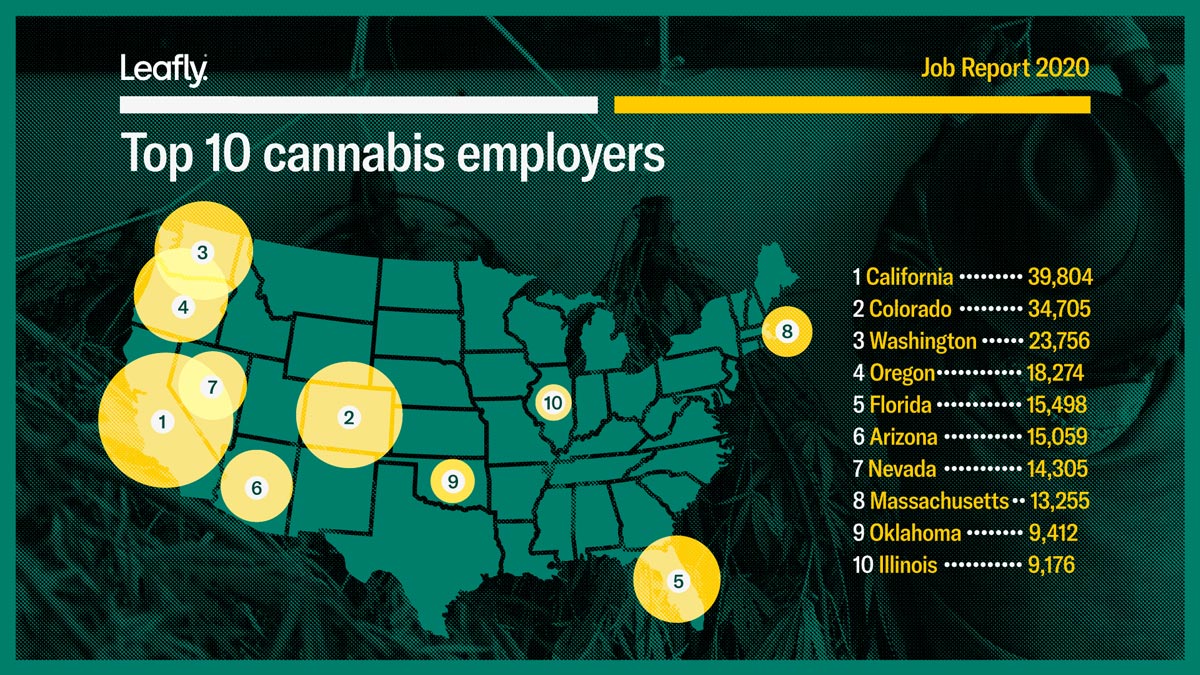 Turbulence in California and Michigan

California and Michigan, two of the largest cannabis markets in the country, had an eventful 2019 in terms of employment.
In California, in addition to the aforementioned layoffs, the sunset of the caregiver law has taken about 8,000 jobs from legal to non-legal status.
Likewise, Michigan's new regulatory system has pushed hundreds of formerly legal dispensaries to illegal status . These jobs are expected to return over the next 24 months as the two states issue more licenses and reduce these jobs to their legal status.
You can read the Leafly Jobs Report 2020 here .